Description
Shine In Every Angle
Newbie-friendly Control Panel
All your movements and operations are just within your fingertips. Round-cap joystick, optimized control panel and adjustment wheel provide a better experience for users to check and adjust gimbal status while changing camera parameters on the fly.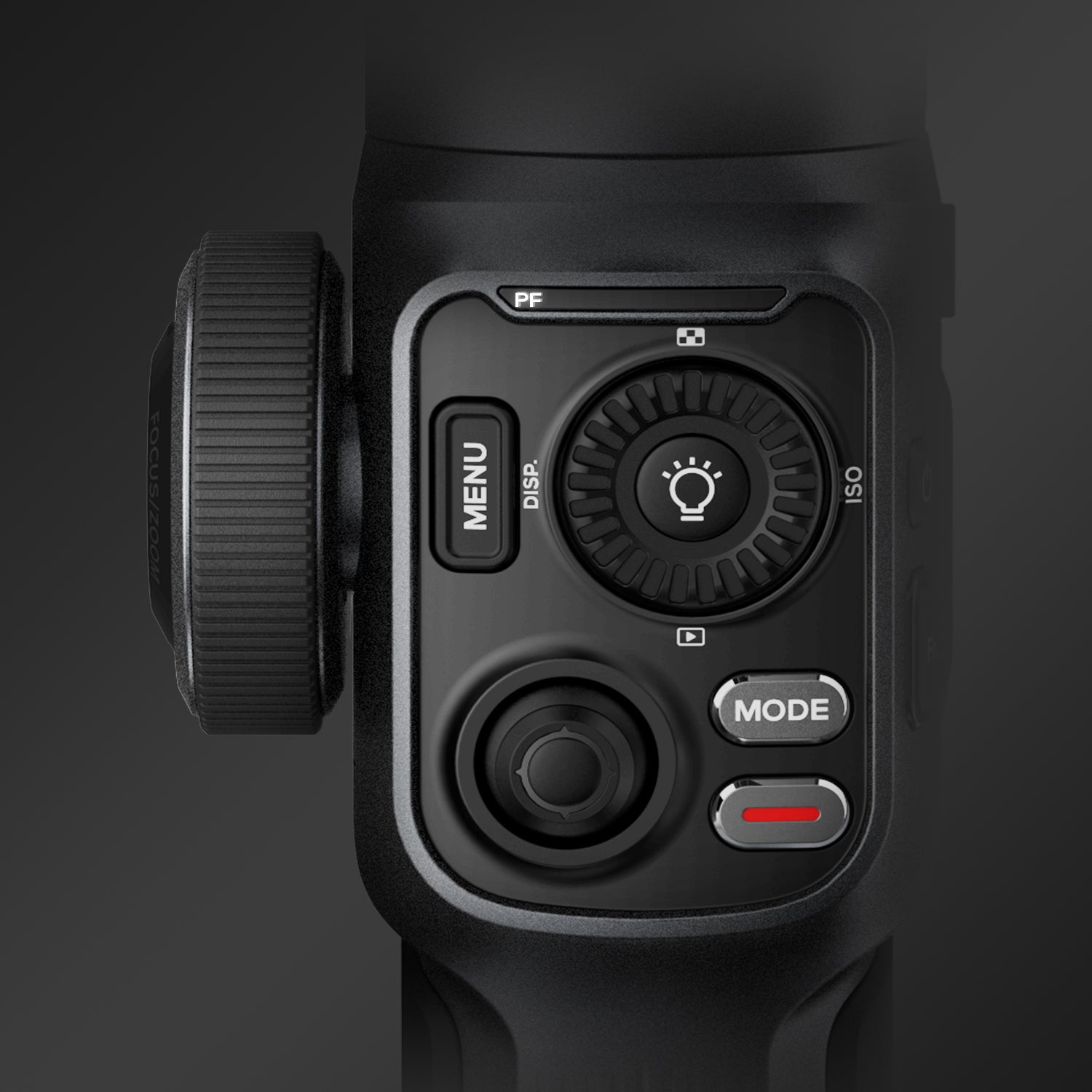 Make Smartphone Smarter on Filming

Craving for unique video creations that stand out? SMART handles all for you. Just a few instructions and gimbal movements, dozens of video templates give you exceptional masterpieces that come with amazing filters, music, special effects and stickers.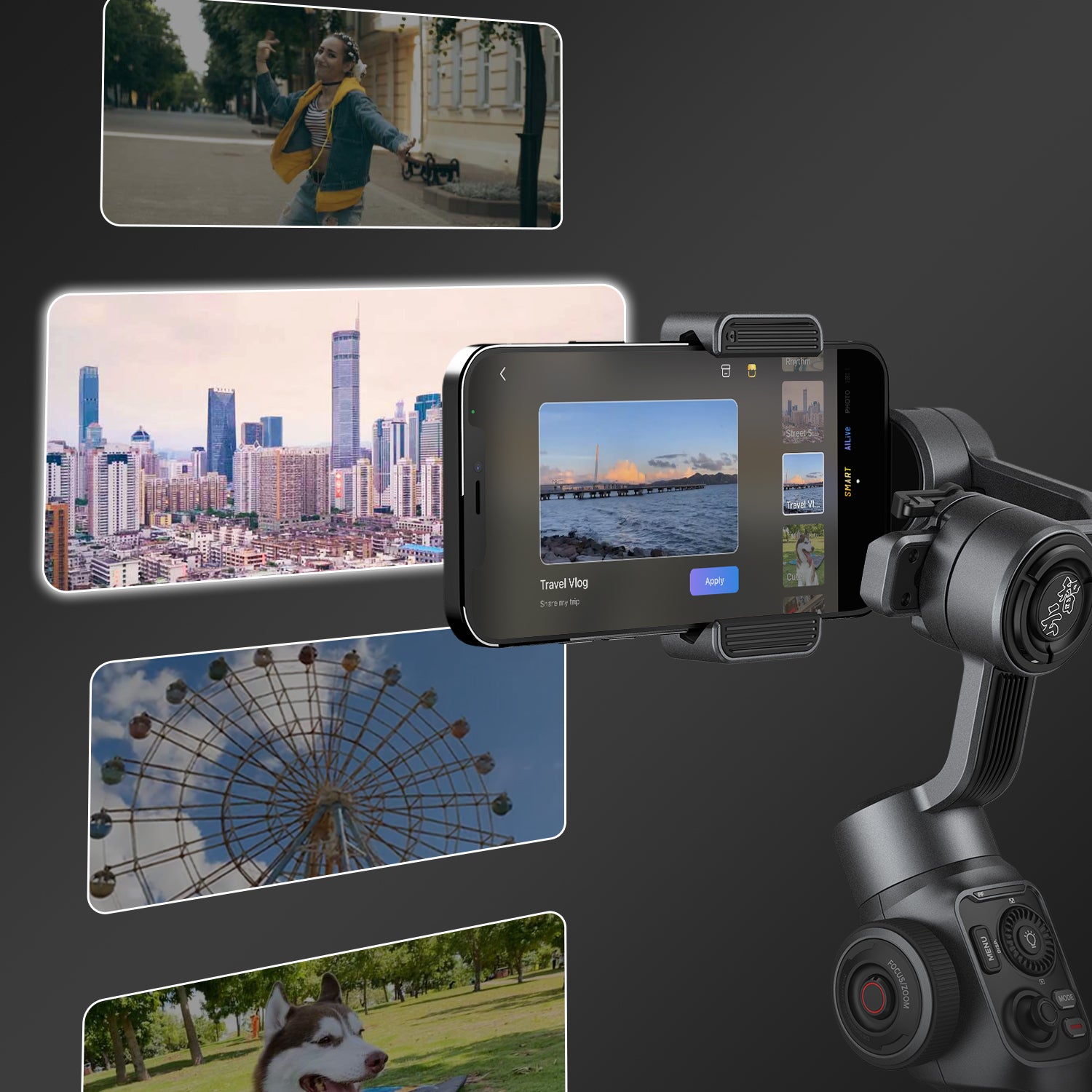 Always Capture the Spotlight
TwoWay Charging
 Stabilizer



Following Deviation in Static State

Max: ± 0.04°




Min: ± 0.01°

Following Deviation in Motion State

Max: ± 0.3°
Standard: ± 0.1°
Min: ± 0.05°

Tilt Mechanical Range

349°

Roll Mechanical Range

300°

Pan Mechanical Range

360°

Payload

150g-300g

Battery


Operation Voltage

Max: 8.4v




Min: 6.5v

Operation Current

Max: 3000mA




Min: 70mA

Output

5V, 1A

Charging Time
2h (lab data)

Size & Weight



Product Size (W*D*H)

311*168*52mm

Net Weight

~615g/unit
What's in the Box
The Smooth 5
August 2nd, 2022
Zhiyun Technologies
9 Huangtong Road
Tieshan Industrial Zone
Qixing District, Guilin
541004, Guangxi, People's Republic Of China (PRC)
To Whom It May Concern,
Our names are Benjamin & Minh La, and we are from the United States (New Jersey). We recently tested & reviewed your Smooth Five gimbal and we would like to provide some feedback. Starting with the pros, the design had a nice and pleasing aesthetic. We also enjoyed the many functions/features of the Smooth Five, including "All Mode." The rotation of the gimbal was also smooth and aesthetically pleasing. There are however some cons to the Smooth Five. When I try using the device for short periods of time (5-10 minutes) outdoor in 90+ degrees Fahrenheit temperature, we discovered that the gimbal would not function properly and the record mode and it keep flashing on mode function , I have to hold to shut down. It also would not correctly function with the app, and fail to record. In conclusion, we would rate the product at a 7.5 / 10. The product had several pros & cons and overall, I may recommend this product to others in the near future. However, at this time we would like to return this product. Thank you for your time. Please send me information so I need to sent it back.
Sincerely,
Frustrated, Disappointed, and Angry!
The Smooth 5 Stabilizer could be a good product, but I wouldn't know, because I couldn't get the battery to hold a charge for more than 5 SECONDS! I wrote to Zhiyun in China to get it fixed, explaining the problem, taking a video showing the problem, sending my proof-of-purchase as requested, spending hours of frustration trying to get an address to send it in for repair or replacement, and finally being insulted by the person, Ellen He, who was my contact person, providing me with basic instructions on how to charge the product which I had read from the product manual when I first opened the box. As a commercial photographer, and owner of a business for over 40 years, with hundreds of dollars worth of electronic equipment, you would think that I would know how to charge this product. It's not rocket science. As a consumer, I am angry that I have had to spend so much time and effort to get a problem like this corrected. I would like to send Zhiyun an invoice for the time I've spent on this issue, if I thought I'd ever get paid. While I imagine Zhiyun is a good and respected company in China, I personally would never buy directly through their website store, but only with an American distributor who would likely send me an address to have it fixed or replaced.
Prime
I have a trouble with prime card an unfortunately the gimbal doesn't work with my phoe
My first gimbal ever, but it sure will be the only one needed for quite some time ahead. Works great with my s21 Ultra !
Great gimbal for beginner with a heavy phone
I had a great experience with Smooth5 i bought for my Hawaii trip. It can a bit bulky for walking into wilderness but it held my heavy phine exactly what i wanted to do. Of course, i am not a sophisticated videographer at all, so mostly happy with what it does. One thing that can be imprived is clear instruction on how each button works with various phones, for example switching between different shooting modes doesn't exist feom the company given my limited time to search for it. Therefore, i ended up working it through my phone screen, which was quite inconvenient when walking constantly for sightseeing.
Payment & Security
Your payment information is processed securely. We do not store credit card details nor have access to your credit card information.